In 1916 opende Piggly Wiggly haar eerste winkel in Memphis Tennessee USA. Dit was heel speciaal, want in deze winkel konden de klanten zelf de producten pakken en aan het einde bij een kassa afrekenen. Piggly Wiggly was ook de eerste met winkelwagentjes en de formule voorzag elk product van een prijssticker, zodat de klant direct kon zien hoeveel iets kostte. Wauw, dit was echt innovatief!
Nu zijn we meer dan honderd jaar verder. We hebben smartphones, organiseren ruimtereizen en kunnen bijna alles maken. Als mensheid hebben we qua vernieuwende innovaties niet stilgezeten. Maar wat zien we in de supermarkt? Producten op een plank die de klanten zelf moeten pakken, in het winkelwagentje leggen en aan het einde bij de kassa moeten afrekenen…
In de maart-editie van FoodPersonality stond een interview met Herald Overweg. Hij heeft zojuist een studie over 'innovatie in retail' afgerond. Zijn conclusie: er bestaat wel een continue stroom aan nieuwe producten, maar de winkels zelf zijn bijna niet veranderd,
'omdat supermarktformules nauwelijks 'exploreren'.' Hij zegt: "Nederlandse formules hebben geen expliciete strategie voor innovatie. Het leiderschap is niet gericht op innovatie, maar veeleer gericht op instandhouding van het bedrijf in termen van omzet, winst en marktaandeel."
In het artikel vindt wel een nuancering plaats. Herald Overweg heeft met name gekeken naar de 'kleinere' winkelketens in Nederland. Dat Jumbo Foodmarkt een innovatieve verrijking in het supermarktlandschap is, valt moeilijk te ontkennen. Overweg komt zelf met het voorbeeld van Plus met 'de Makerij'. Daarnaast kennen we allemaal Spar University, de digitale AH op Schiphol, en laatst kwam ik in België een innovatief voorbeeld tegen bij Delhaize.
Delhaize: experiment met 'shoppingtrips'
Het lijkt erop dat Delhaize experimenteert met nieuwe 'shoppingtrips'. In de traditionele supermarkt kom je meestal binnen op de agf-afdeling. Hier stelt de klant de avondmaaltijd samen: 'Wat eten we vanavond?'. De groenten bepalen dan meestal de rest van de keuzes.
Delhaize experimenteert nu met andere vragen van de klant, bijvoorbeeld: 'Ga ik zelf koken?' of 'Ga ik snel of uitgebreid koken?'. Bij binnenkomst wordt de klant geconfronteerd met suggesties die bedoeld zijn om het leven makkelijker te maken.
Overweg heeft in zijn onderzoek gelijk dat veel retailers passief zijn, want innovatie is complex én duur. Daar heeft niet iedereen de mogelijkheid toe. Gelukkig zien we steeds meer initiatieven die boodschappen doen voor ons leuker en makkelijker gaan maken. En ook de coronacrisis heeft supermarkten tot bepaalde vernieuwingen 'gedwongen'. Ik ben benieuwd hoe winkels er over tien jaar uitzien!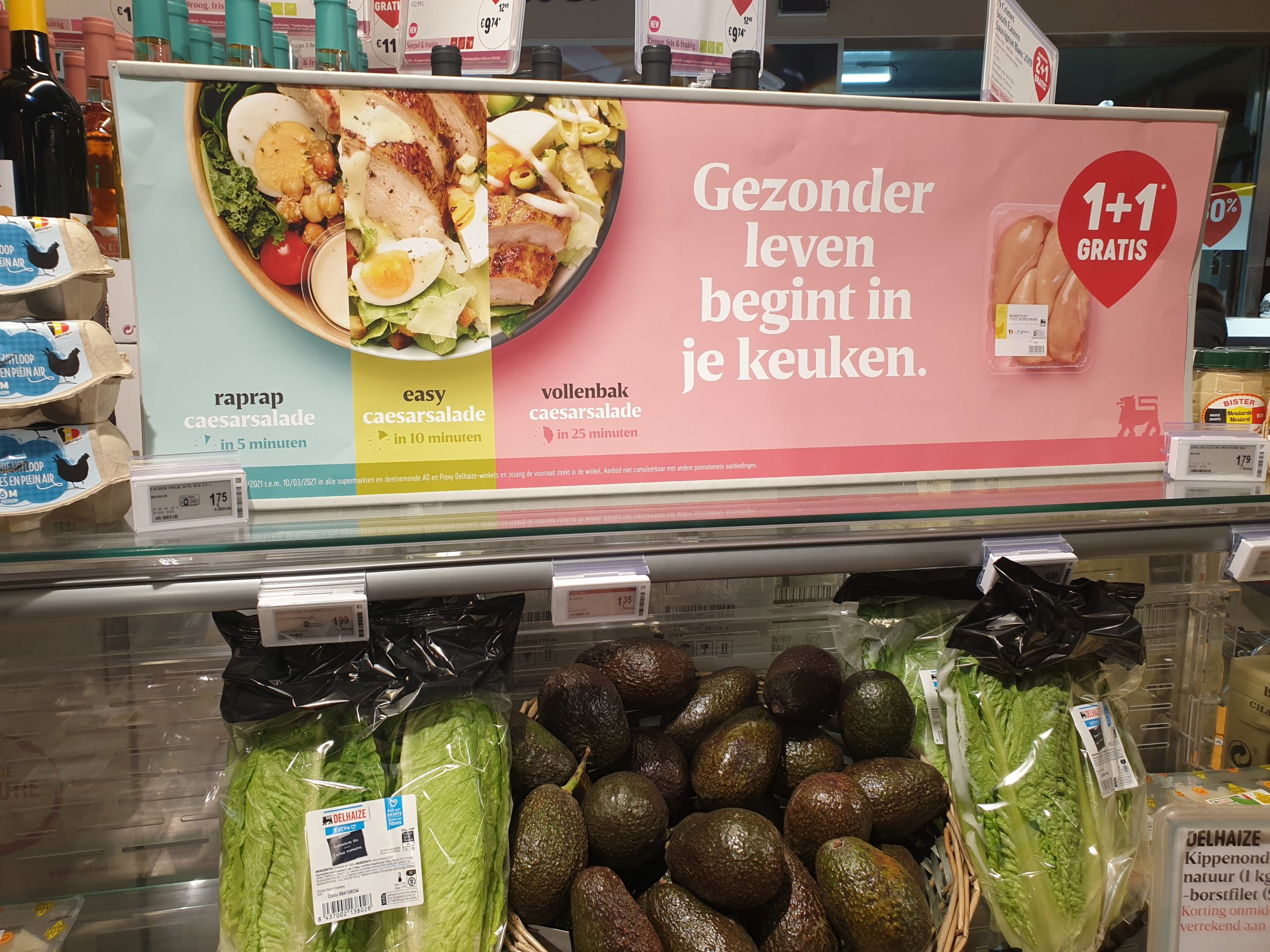 Deze column van Tijn Bresser is verschenen in de Supermarkt.team van mei 2021.